/
Missouri /
St. Louis Southwest
Storm Guard Roofing &
Construction of
SW St. Louis
St. Louis roofing and exterior restoration experts you can trust.
Serving St. Louis, St. Charles, Eureka, Fenton, Warren, Washington & Surrounding Areas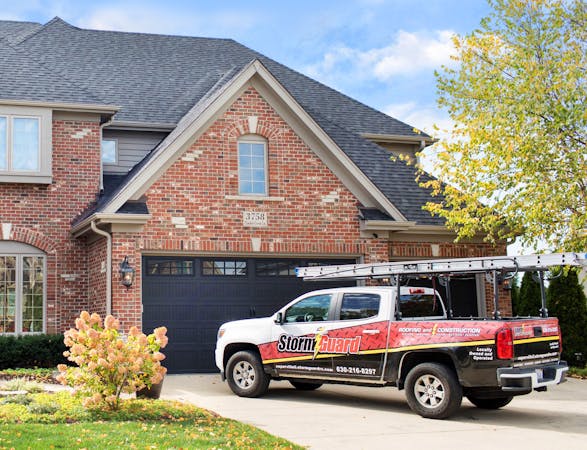 HASSLE-FREE ROOFING & RESTORATION IN ST. LOUIS
One contractor for all your repair needs.
If you're looking for residential roofing, commercial roofing or exterior restoration services in the St. Louis area, we're here to help.
schedule free inspection
Services We Provide
Storm Guard of SW St. Louis provides expert roof repair, roof replacement, siding, windows and gutters for your home or business in St. Louis, Pacific, St. Charles, Franklin, Jefferson, Warren, Washington & surrounding areas.
Request A Free Estimate
Residential Roofing
Roof Maintenance
Roof Damage Assessment
Commercial Roofing
Siding
Gutters
Windows
Roofing Repairs + Solar Energy Solutions: Unleash the Full Potential of Your Home with our Sister Company SolaTrue
Upgrade your roof to reduce your carbon footprint or preparing your home for a power outage. SolaTrue is here to help with your energy savings!
Learn More

What Our Customers Are Saying
Customers from St. Louis and its surrounding areas have had fantastic experiences using Storm Guard. Here's what some of them have to say.
Dave Shell and his crew did a wonderful job on putting a new roof on my parents home. They were quick, efficient and cleaned up after it was done. I would recommend them to other home owners.

I would recommend Storm Guard to anyone needing a new roof or gutters. They did a great job installing the roof and cleaning up afterwards. We had new gutters and facia replaced this October. Matt scheduled us around the rainy days and I couldn't be happier with the job.

Storm Guard Roofing and Construction were great to work with. They did a fantastic job on our roof in 2015, so it was an easy decision to hire them to replace our gutters in 2021. The price was very competitive. I highly recommend.

Meet The Owner, Kevin Brauer
About the Owner, Kevin Brauer - Born and raised in Marion, IA until High school graduation when Kevin left for Missouri State University (formerly Southwest Missouri State University) where he played football, golf and graduated with a degree in Organizational Communications. He married his wife Denise of 25 years and business partner in Storm Guard during his junior year in college.
They have since had 2 sons, one who has graduated from Missouri State University and is an aspiring actor in Los Angeles, CA and another who is a junior in Washington High School and is an aspiring businessman. Kevin's interests include hunting, fishing, hanging out with his wife and family and activities that support our local communities.
Kevin and his wife are a member of several Chamber of Commerce groups and believe they're a part of their community, hoping to give back more than the community has given to them.
Experience you can trust
THE STORM GUARD DIFFERENCE
We're licensed and insured and offer services throughout St. Louis West County, and the surrounding areas, and we stand behind our work with a five-year warranty on labor.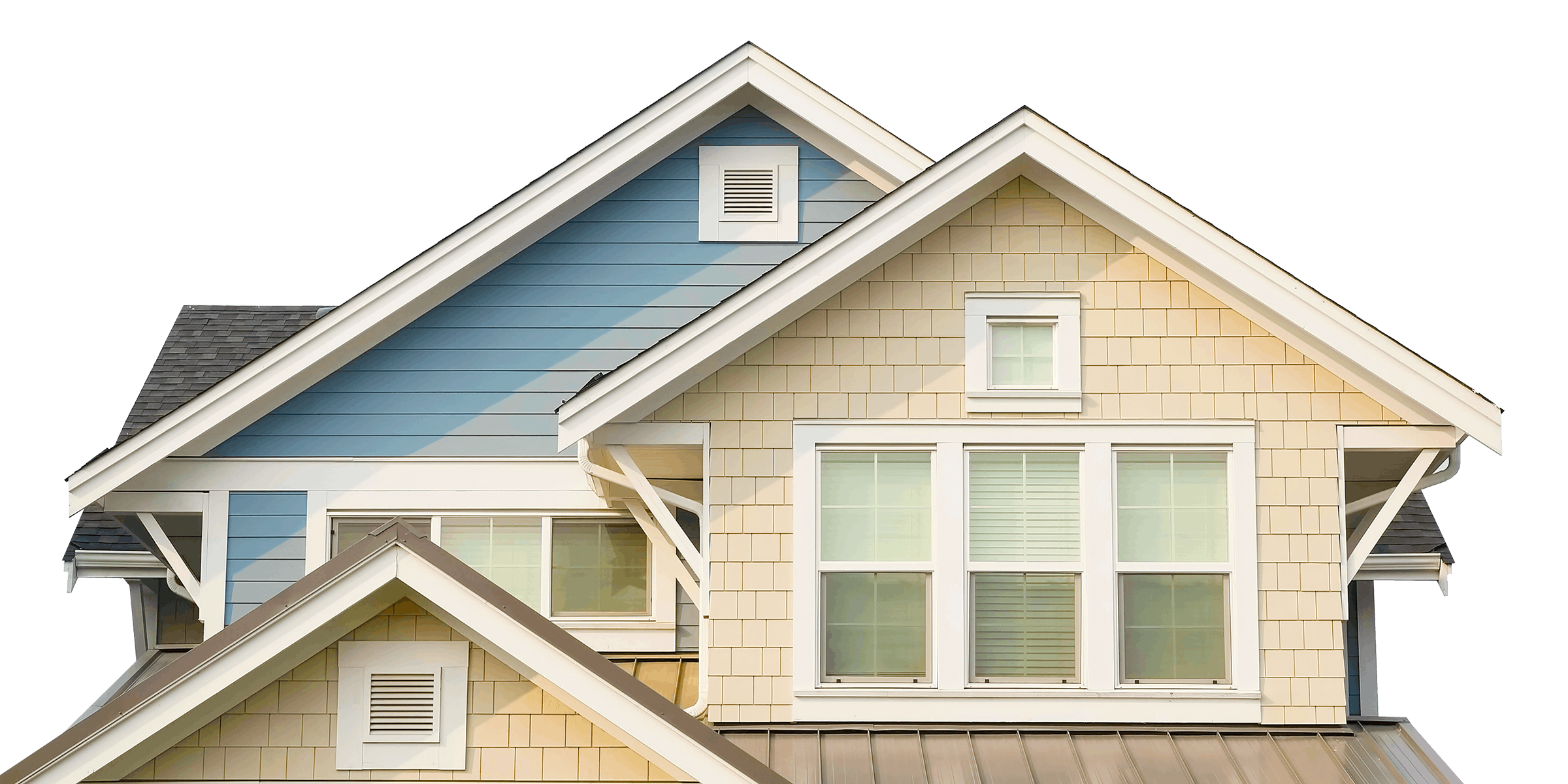 Why Trust Storm Guard?
Honesty & Integrity
We're Honest To A Fault - We Do The Right Thing
We Follow Through & Honor Our Contracts
No Scams. No Fraud. No Bad Workmanship
We Do It Right - Or We Don't Do It
Honest Assessments Guaranteed
Reputation & Experience
20+ Years Experience
Consistent 5 Star Ratings & Reviews
A+ BBB Rating
Helpful, Knowledgable Sales Team
Expert Project Managers, Highly Trained Workers
Rigorous Procedures w/ Proven Methodology
Committed to Safety
Personalized Customer Service
Certifications & Affiliations
Why We're Different
Storm Guard of St. Louis is your local expert in roofing, roof repair, siding, windows, gutters, and paining for your home or business. Reach out today by calling 636-778-9720.
Testimonials
What Our Customers Are Saying
Roofing Contractor for Ivona Aholt

Will and Nate were exactly on time to check what I thought was a leaking roof that I would have to replace. I felt comfortable enough to leave them in the house and go back to work. They called immediately after checking it out to give me the findings. They concluded that the moisture I noticed was due to the lack o f airflow and the actual roof is not leaking. They did recommend the replacement of the roof due to its age and because it was starting to disintegrate. I really appreciate their honesty and professionalism and will be making sure to have them replace the roof when it is time.

Roofing Services for Katie Leigh Santangelo

We had a suspected leak in our ceiling and someone recommended Storm Guard. I called and Justin was at my door within 45 minutes. He inspected my roof and was completely honest about the issue. It ended up being something small so he told me he could take care of it later in the day! Sure enough, towards the end of the work day he stopped by and patched the holes for me. I have never worked with such a smooth, efficient and honest company in my life. I can't recommend Storm Guard Roofing enough. 100% satisfaction. 10/10 on every level. Thank you, Justin for your kind and honest work.

Roofing Company for Mark Floyd

Storm Guard Roofing and Construction were great to work with. They did a fantastic job on our roof in 2015, so it was an easy decision to hire them to replace our gutters in 2021. They were prompt in getting back to me with a quote and always available to answer questions . The crew did great work and cleaned up whe n the job was completed. The price was very competitive. I highly recommend.

Roof Contractor for Sneliseko Rsace

I came across Mrs Kimberly Louis when she appeared as a guest on a Forex Podcast in USA. I was listening to and was very impressed with her straight forward approach and the principles of her trading strategy. My heart then told me to invest $1000 with her company as a trial. I was able to withdraw a profit of $12,6 00 after 7 days. Mrs Kimberly Louis make this possible, do well and reach out to her for a secure investment too. Email: kimberlylouis110@gmail.com WhatsApp + 1 (860) 556‑3122

Roof Repair for Brenda Klingler

Start to finish everyone went out of their way to make this experience as easy as possible for me. Matt was quick to answer all my questions about the job and went above and beyond to see the work was done properly. I love the new roof and would recommend Storm Guard to anyone! false

Roofing Contractor for Kyle R.

This company has worked with me for a while now. They are definitely my preferred contractor. ***** will take the time to make sure you are getting the most efficient product at the cheapest cost and ensure that the work is done perfectly. Great team 10/10. false

Roofing Services for Brett K

Storm Guard did an excellent job with our roof replacement from start to finish. **** ****** was very professional and responsive. Everyone at Storm Guard made the process very easy for us to navigate. Communication and follow-up were outstanding. Highly recommended. false

Roofing Company for doris s

Had Storm Guard replace our roof and skylights not long ago and we were very pleased with their work, Roofers were on time. Work done in one day. Cleanup exceptional. Follow up and coordination with insurance company excellent. false

Roof Contractor for richard s

Storm Guard recently put on a new roof at our house. **** was so helpful throughout the whole process. Very professional, and knowledgeable. Explained everything that needed to be done, and it was carried out extremely well. We have a new roof (no more leaks) and a warranty for 40 years. They came out several times when I had questions during the whole process. Service was great and the roof was done in one day with great workers. Highly recommended.

Dan This was my first major home insurance claim(Storm Roof Damage) and Kevin and Will Pruden helped me with the insurance claim.Will Pruden kept me informed throughout the entire process( good job young man) from start to finish. The roofing crew sent did a great job on roof replacent/ facia metal repair and cleanu p before leaving. I highly recommend Storm Guard for your home repair needs.

Roofing Contractor for Joann Watson

Easy to work with. The roof and gutters was done in a timely manner with no issues. Would highly recommend them. false

Roofing Services for Spencer Berenz

Worked with Justin Smith throughout the process and I couldn't imagine a more corporative, engaging, and responsive individual. He did a great job working with my ever-changing schedule and delivered my new roof with the exact timing he had promised. Extremely knowledgeable and efficient. Highly recommend to anyone who needs any of their services.

Roofing Company for John H

We recently had storm Guard install a new roof, gutters and gutter guards. They did an excellent job. They are a family run business and very professional. We were pleased with their good business ethics, and appreciative of their help with the insurance process. We highly recommend them. false

Roof Contractor for Greg Cook

Dave was great to work with. He responded quickly with any questions or concerns that I had before, during, and after the work was done. false

Roof Repair for Steve Pohlman

I would recommend Storm Guard to anyone needing a new roof or gutters. Matt and his team installed a new roof on our house 2years ago. They did a great job installing the roof and cleaning up afterwards. We had new gutters and facia replaced this October. Matt scheduled us around the rainy days and I couldn't be hap pier with the job.

Roofing Contractor for Spencers

I can't say enough good things about Scott at Storm Guard. Several years ago we hired Storm Guard to repair ~$30k worth of damage to our roof and siding from a big hail storm. Scott was was very professional and did a great job managing that whole process. The work from his crews was well done. Today, I called him t o see if he could help repair some siding that had come loose from me power washing our house. He came right over, climbed up on the roof and did the work himself. Now that's customer service!!! Highly recommended.

Roofing Services for Edwina Groat

It is not often, I feel compelled to write a review. Storm Guard was on time, efficient, beautiful work, clean up. Job well done!!! false

Roofing Company for Lisa Emke

Dave Shell and his crew did a wonderful job on putting a new roof on my parents home. They were quick, efficient and cleaned up after it was done. I would recommend them to other home owners. false

Roof Contractor for Mark Watson

They exceeded our expectations on everything. Kept us informed and followed up. false

Storm Guard did an excellent job replacing 24 windows in our house. The crew was good to work with, very professional and helpful. They finished up today, the windows and finishings look great. I would recommend them to anyone that needs the services they offer.The whole process from the very beginning with them hel ping us figure out what windows we wanted to the end of the project was a good experience.

Roofing Contractor for Alan Weissman

Great finished look to new roof and gutters false

Roofing Services for Barry G

Very pleased with Storm Guard. Had roof replaced and the house siding replaced through insurance. ******************* helped us walk through all the unknowns and insurance language. They definitely helped get the insurance company to cover hail damage to the roof and siding, and I'm sure if I did this on my own, the insurance wouldn't cover as much as they did.

Roofing Company for Timothy F.

Everyone we were involved with from Storm Guard were very professional, courteous and eager to help us through our roof process from beginning to end. false

Roof Contractor for Debbie Pemberton

Scott Brauer from Storm Guard was in the area and gave me his card in case I needed any services. Weeks later we had a storm and I called several people about my roof to come and inspect to see what damage I had. Justin Smith from Storm Guard came out the very day I called. He was very professional and he and anothe r person got on the roof and inspected everything and said I definately needed a new roof. I called the insurance company and an inspector came out. I called Justin Smith and told him that the inspector from my insurance company was coming out to do the inspection and Justin said he would like to be there with him to walk through the inspection with him. Justin kept in contact with me all through the process. Justin was there the day they started on the roof and also came when the guttering was installed. Justin and Scott Brauer even came back later to do some adjustments to the gutter domes that were installed. Everyone that worked on my house were very polite, respectful of my property, and cleaned up quickly. I would recommend Storm Guard to everyone. My neighbor came to my house and asked for the number to the company that did my roof because her friend was looking for a company to replace her roof. I love my roof!!

Roof Repair for Jona Brinkley

Highly recommend Storm Guard Roofing and especially working with Will Pruden! He made the whole process extremely easy. He's honest, quick to respond, and overall great to work with. false

Roofing Contractor for Debra P

Storm Guard did a wonderful job on my roof and guttering. They were professional and nice to work with. I worked directly with *********************** during the entire process. He answered all my questions and quickly got back to my emails. ****** was also on the job site during the entire process. He and ********* ************** even came back later to adjust the gutter domes that were installed. They were so nice and helpful. I would recommend them to everyone.

Roofing Services for kaye honig

Storm Guard Testimonial Integrity We called Storm Guard after interviewing several other businesses first…. names you would have heard of on T.V. Storm Guard was the perfect fit for us; they were local, had a "can do" attitude and the process from start to finish was so professional that it allayed any fears that we might have had. The owner, Kevin came to the house to see the project (a screened-in porch with a second floor walk-out deck on the roof of the porch). The 30-year-old roof and the deck above needed replacing. We also needed to try and salvage the huge wooden beams that lined the ceiling of the porch. Kevin assembled a crew of two (Keith, James) who were the nicest, most capable guys you would want hanging around your house! No loud music, super productive and the positive "can do "spirit. The showroom in Pacific is very nice where you can consult with Kevin on the materials. He will work with your budget and listen to your preferences. From start to finish, this company gets an A+ rating.

Roofing Company for Kaye H

Integrity We called Storm Guard after interviewing several other businesses first. names you would have heard of on T.V. Storm Guard was the perfect fit for us; they were local, had a can do attitude and the process from start to finish was so professional that it allayed any fears that we might have had. The owner, ***** came to the house to see the project (a screened-in porch with a second-floor walk-out deck on the roof of the porch). The 30-year-old roof and the deck above needed replacing. We also needed to try and salvage the huge $$$ wooden beams that lined the ceiling of the porch.***** assembled a crew of two who were the nicest, most capable guys you would want hanging around your house! Ha Ha! No loud music, super productive, and the positive can do spirit.The showroom in Pacific is very nice where you can consult with ***** on the materials. He will work with your budget and listen to your preferences. From start to finish, this company gets an A+ rating.

Roof Contractor for Sharrie Corcoran Niswonger

We worked with Mitch he was very helpful very professional always there to answer my questions there were no hidden fees I would highly recommend Storm Guard . false

-

Sharrie Corcoran Niswonger

Roof Repair for Glenda Dickman

What an outstanding company to deal with. I never knew them until my 96 year old aunt asked me for help finding a roofing company. They were thorough and kept my Aunt informed of each step of the process. They treated her with dignity and respect. The roof and guttering reached beyond our expectations. Don't hesitat e to work with Scott or Will from this company. Glenda Dickman