/
Colorado /
North Metro Denver
Storm Guard Roofing &
Construction of
North Metro Denver
Professional roofing and restoration service experts you can trust.
Serving Denver, Brighton, Boulder, Broomfield, Westminster, Longmont & Surrounding Areas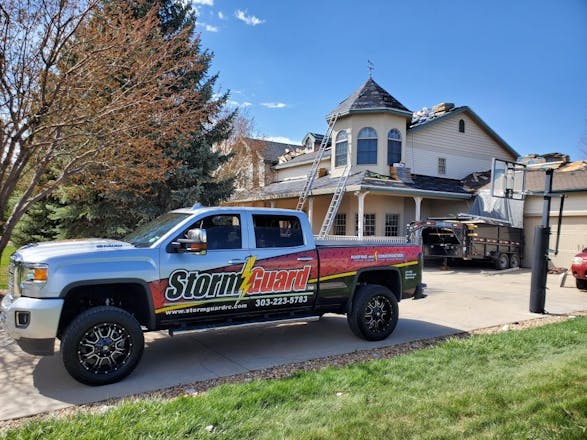 HASSLE-FREE RESTORATION IN NORTH DENVER
One contractor for all your repair needs.
If you're looking for residential or commercial roofing or exterior restoration services in North Metro Denver, we're here to help.
schedule free inspection
Services We Provide
Storm Guard of North Metro Denver is locally owned and operated by fourth generation Colorado natives, Janice Lopez and Russ Barber. As a trusted name in the insurance restoration industry, Storm Guard specializes in roofing, gutters, siding, paint, windows, and emergency tarping services.
request a free estimate
Roofing Experts
We're fanatic about customer satisfaction and provide the strongest materials, workmanship and labor warranties in the industry.
We're Licensed, Insured, and Certified
We Warranty All Labor & Materials
Superior Craftsmanship That's Guaranteed
Serving Our Community
According to the Rocky Mountain Insurance Information Association, Colorado's Front Range is located in the heart of "Hail Alley" and receives the highest frequency of large hail in North America. We can count on three or four catastrophic hail storms (defined as at least $25 million in insured damage) every year.
That is why we brought Storm Guard to North Metro Denver. We, and our neighbors, deserve a professional, reliable, high-quality damage restoration company that is 100% focused on serving our community.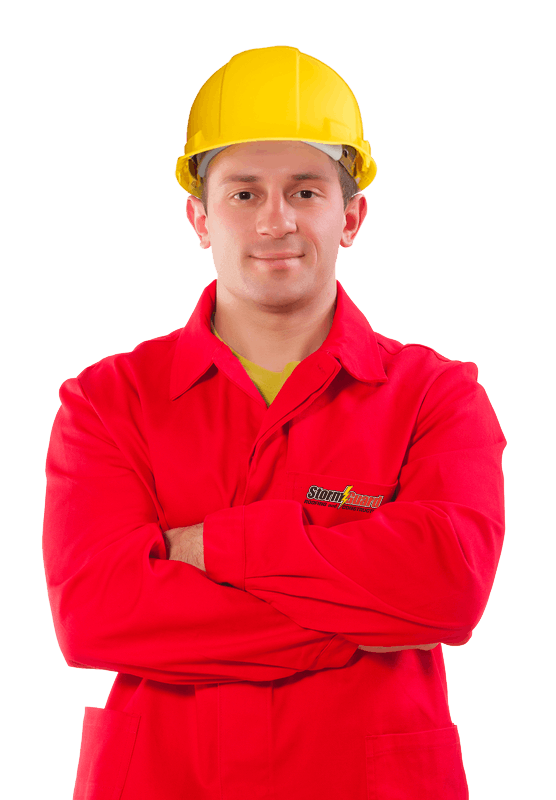 What Our Customers Are Saying
Customers from North Metro Denver and its surrounding areas have had fantastic experiences using Storm Guard. Here's what they have to say.
Russ and the team at Storm Guard are our go-to roof, gutter and window install and repair crew. We have used their services multiple times over the past several years and are always satisfied with their work. Russ is a fantastic guy and will take great care of you.

We have been very happy with Storm Guard! During the Marshall fire MANY shingles were ripped off the back side of our roof from the high winds. Russ has done a great job guiding us through our roof repair including dealing with insurance. I would highly recommend Storm Guard!

Storm Guard was absolutely amazing from start to finish. They were on time, professional, experienced, responsive, helpful, incredibly knowledgeable, & I can go on and on. Install day went wonderfully, & my roof turned out beautiful. Storm Guard is the only roofing company I would recommend!

About Storm Guard of North Metro Denver
Our Values are at the core of everything we do. They are the guiding principles that dictate our behaviors and our actions in the workplace and they illustrate the way we interact with each other, our customers, our vendors, and suppliers.
Serve Our Community - Strive to make a difference in our community. Build positive relationships with our customers. Treat people like family, with honesty and integrity. Care.
Deliver Excellence - Strive to be the very best in exterior restoration services. Have high ethical standards and show passion for what you do. Take pride in demonstrating superior product knowledge and delivering the highest quality products and services. Have heart.
Live Up To Our Commitments - Be reliable and dependable. Take accountability and ownership for your actions and results. Be engaged.
Promote Safety - Follow policies and procedures to ensure the health and well-being of our employees and our customers. Put safety first.
Have Fun - Approach each day with a positive attitude, happiness and humor. Love what you do.
Meet Our Owners
Janice Lopez - A Colorado native, Janice graduated from Thornton High School, received her undergraduate degree from the University of Colorado at Denver, and earned her graduate degree from Regis University. Janice has spent most of her career in industries which are highly focused on customer service where she specialized in the areas of Human Resources, quality assurance, and project management.
Janice married her high school sweetheart Isaac in 1995. They reside in Thornton CO with their two beautiful children, Isaac and Isabel. Janice's other pastimes include sports photography, traveling, and spending time with her family in the beautiful Colorado Rocky Mountains.
Russ Barber - Also a Colorado Native, Russ graduated from Thornton High School and shortly after entered the workforce in the Heating and Air Conditioning Field (HVAC). Russ completed his 4-year apprenticeship program through the Construction Industry Training Council of Colorado (CITC). Russ worked in HVAC and construction for 20 years in various positions including new construction installation, maintenance, project management and sales. He maintains his HV Journeyman License and Universal Refrigeration Certificate today which has helped him transition in to the field of exterior restoration.
As a true motorcycle enthusiast, Russ enjoys all things with two wheels whether it is on the streets, on the trails in the Rocky Mountains or just watching AMA racing on TV.
Russ and his wife Jessica met in 2000 through a mutual friend and have been happily married since 2001. Russ and Jessica now live in Lafayette CO and have three adult boys. The family enjoys being outdoors, boating, camping, and just enjoying what life has to offer.
Experience you can trust
THE STORM GUARD DIFFERENCE
We're licensed and insured and offer services throughout North Metro Denver, and the surrounding areas, and we stand behind our work with a five-year warranty on labor.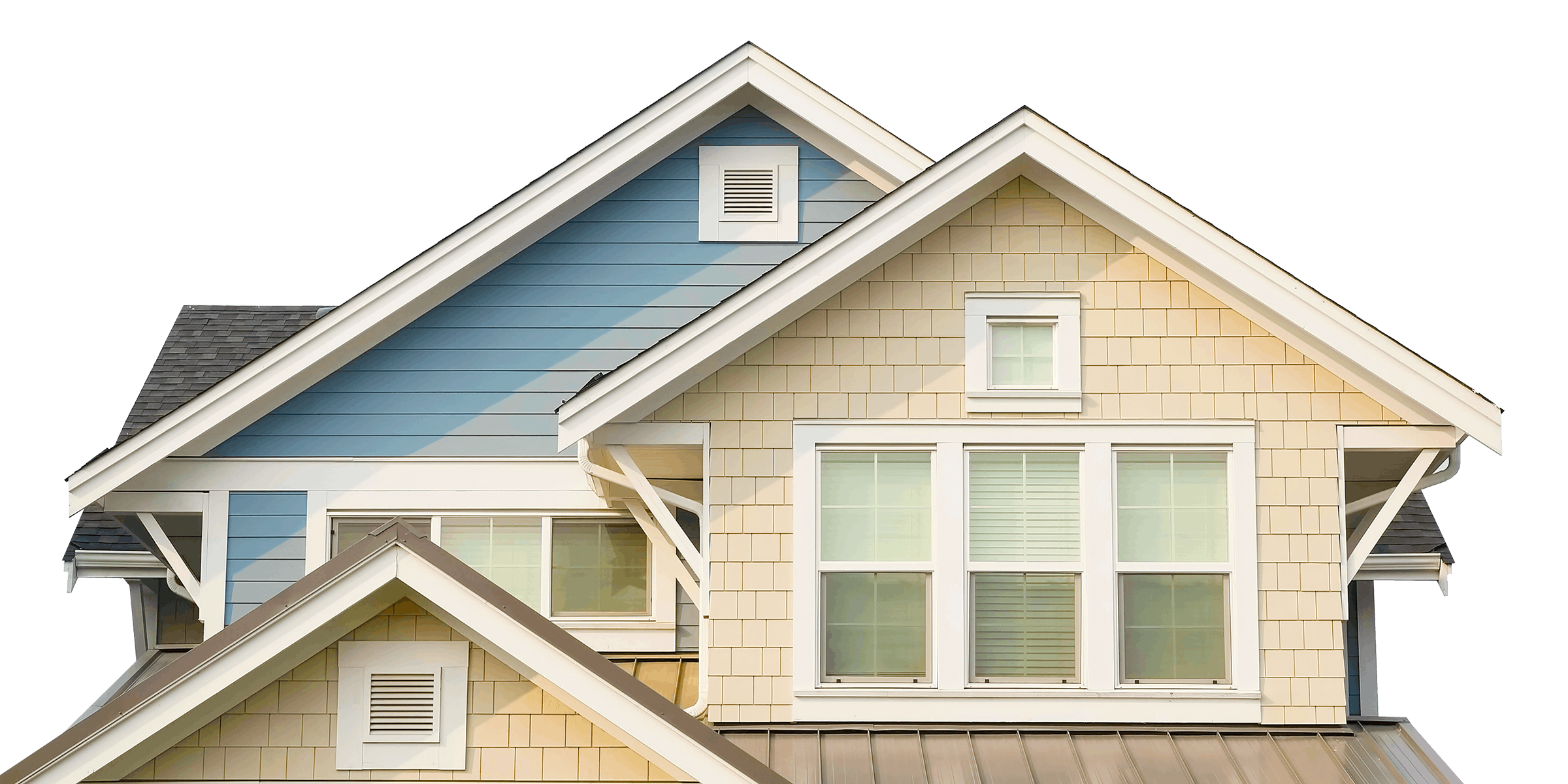 Why Trust Storm Guard?
Honesty & Integrity
We're Honest To A Fault - We Do The Right Thing
We Follow Through & Honor Our Contracts
No Scams. No Fraud. No Bad Workmanship
We Do It Right - Or We Don't Do It
Honest Assessments Guaranteed
Reputation & Experience
20+ Years Experience
Consistent 5 Star Ratings & Reviews
A+ BBB Rating
Helpful, Knowledgable Sales Team
Expert Project Managers, Highly Trained Workers
Rigorous Procedures w/ Proven Methodology
Committed to Safety
Personalized Customer Service
Areas We Serve
Storm Guard of North Metro Denver office is located in Brighton CO just East of I-25 off exit 229. It is a few miles Northeast of the new Top Golf.
We Specialize in Insurance Claims
Filing an insurance claim to start your restoration project can be a trying task. To alleviate the stress, Storm Guard will assist you during the insurance claims process.
get started today
Northglenn Business Award Winner
2017 Rookie Business of the Year
Financing Available
Needing some home improvements, but you don't have the cash to do it? Storm Guard of North Metro Denver proudly offers financing to get your project completed.
apply now
Testimonials
What Our Customers Are Saying
Roofing Services for Lance Cayko

These guys and gals are great to work with! 10/10! false

Siding Installation for MDMACHINE SHOP

This company did an amazing job on my roof. They were very professional. Highly recommend!! false

Exterior Restoration Services for Linda Osheroff

Not only was Russ exceptional in his knowledge and products, he absolutely works for his client. He helped me, immensely, in dealing with my insurance! Also, his whole team is wonderful! I truly enjoyed working with him and wouldn't hesitate to recommend him when you're needing a new roof, or gutters! false

Property Damage Services for Krista Speaks

Very professional and responsive. Ask for Darren - he is amazing! false

Residential Siding Installation for nichole dyer

I've always had a great experience with Storm Guard. I've also had several large windows replaced - I highly recommend them. false

Roofing Restoration for Tim Chiles

Russ and his crew have always been very responsive to any questions I have had. They treat you like family and do everything to make the process as smooth as possible. I have referred many clients, and they have had nothing but positive words to say about how they were treated throughout the process no matter what t he job entailed. Thanks for being there for your customer's needs.

Window Replacements for Sandi V

I called Storm Guard after my house sustained hail damage. Russ and his team were fabulous. They worked with both my insurance company and HOA to replace my roof, gutters and several windows. I was very pleased with the responsiveness and quality of the work and will definitely call them again in the future. false

Gutter Installation for Mike Ross

We were very happy with our experience with Storm Guard. Russ was very professional and knowledgeable and took a lot of time to answer all of our questions and is just a really nice guy. We recommend them highly and will definitely work with them in the future! false

Residential Painting Services for Shaina Miller

Russ and the team at Storm Guard are our go-to roof, gutter and window install and repair crew. We have used their services multiple times over the past several years and are always satisfied with their work. Russ is a fantastic guy and will take great care of you. false

Emergency Tarping Services for Chris Ringenberg

Great people. Always reliable and willing to go the extra mile. false

Window Installation for Ronald Mccuiston

Russ and his team at Storm Guard replaced my roof, replaced my windows and painted my home. They can be counted on to do what they say they will. Customer service was unbelievable and workmanship was high quality. Hard to find companies like them these days false

Gutter Repair for KERRY KNIGHT

From start to finish with the initial visit from Russ of getting on the roof with the Insurance Adjuster who only wanted to replace a small area , Russ explained that he contacted the manufacturer of my old shingles, that we're no longer being manufactured, as well as the house needed to be brought up to code, there fore he got us a full replacement of the roof. From the office staff getting the permits and contacting me and explaining to me the process of the insurance money, to the actual installers who made a custom trim to go around my chimney as well as added more vents on top of the roof for airflow as well as cleanup you couldn't ask for a better company! I have and will strongly recommend them in the future

Roofing Services for Shari Smith

I had a line forming on my ceiling that made me think I might have a leak in my roof. I called Russ Barber with Storm Guard Roofing and Russ came to my house that afternoon. He popped out his ladder and got right up on my very high roof and came back down and said he could not find any signs of damage but suspected that the seal on some thing might need to be resealed. You reached into his truck grabbed something and jumped back on there and sealed it up. This is somebody you can trust and rely on to tell you the truth and help you out even when it doesn't benefit him. Didn't try to make it into a roof problem he's just an honest good person

Siding Installation for Keith Cross

I had the pleasure to meet Russ from Storm Guard North for gutters and downspouts as well as windows at two different properties. Russ came out and first inspected to see the scope of the job and what REALLY needed to be fixed or replaced. Talking to Russ about what and why was great and he is very knowledgeable abo ut his job and products. New gutters and downspouts at one home changed the home dramatically and also helping to protect our foundation. The second property needed windows badly. Again talked about the products and how and why and also Russ brought out his installer to make sure everyone was on the same page and the scope of work. I will always refer work to Russ at Storm Guard North and any work I need. Thank you

Exterior Restoration Services for Jeremy Goodwin

Darren and the storm guard crew were great to work with. High quality work and thorough clean up after the job. Darren explained everything at every step and was patient while I dealt with my insurance company nonsense. Highly recommend. false

Property Damage Services for Alyson Carney

Very professional. Storm Guard replaced our siding and roof that was damaged by wind and hail storm. Their services are turnkey. They managed all phases of the project and provided excellent assistance in the insurance claim process. false

Residential Siding Installation for Alex Gamayunov

Great experience with Storm Guard North Metro. Darren was working with us and he made the while process very easy. Answered any questions we had during the initial inspection and during the repair. The roof had hail damage and was getting worn out in places. Very satisfied with repair and the company as a whole. false

Roofing Restoration for Rick Whitcomb

I met this company on my own through Broomfield days. They are super polite, honest, flexible, and just a great company to work with. false

Window Replacements for katie barnes

Russ and his Team are one of the most reliable, honest companies around. Very friendly, knowledgeable and I'm so glad I've been able to count on them! Thanks Russ. false

Gutter Installation for Jerry Hegge

We had our roof replaced, new gutters installed and all new windows. They did a great job and were easy to work with. they cleaned up every day before they left. I will use them again when needed. false

Residential Painting Services for Clara Capano

When i asked my neighbors who to use for roofing, they said Stormguard! Darren H is great - very professional and cares about the client and what is right, not just getting the sale. false

Emergency Tarping Services for ttooltyme07

After some major hail damage to my roof and siding, Storm Guard came to the rescue! From our initial contact, all work and service was conducted in a very professional manner. I highly recommend their services! false

Window Installation for Fernando Herrera

Great people and great customer service. Storm Guard repaired my hail damaged roof and gutters with ease. This was an easy process and couldn't have gone any smoother. I highly recommend Storm Guard! false

Gutter Repair for Roland Leigh

Russ and his team installed a new window in our living room. They were professional and on time for all phases of the project. Quality product. I would recommend Storm Guard and would not hesitate in using them for future projects. false

Roofing Services for CHRISTIE LONG

Russ and his team did a great job on two of our homes, we recommend Storm Gaurd to every one. They helped us with window, garage door, getters, paint and new roof. Love how it all turned out. false

Siding Installation for Sports Guy Dad

Storm Guard did a great job with our repair. We had an older, hail damaged roof. Storm Guard was professional, did the job in a timely manner and made the process simple. Darren and the staff were very easy to work with on this project. false

Exterior Restoration Services for Jon Peterson

Following a hail storm Darren helped walk us through the repair process. After performing the initial roof inspection Darren identified other items that were approved by our insurance company as hail damage maximizing the proceeds available for repair. We ended up replacing a window, reroofing the house, gutters and exterior house painting. The majority of which ended up being covered by insurance. StormGuard and their team did a great job. Thanks Darren.

Property Damage Services for Drew Dunsmuir

Russ and his team are fantastic! So responsive, fairly priced, and the highest quality work. I will definitely be using them again. false

Residential Siding Installation for Robert Oaks

What can I say about Storm Guard North Metro Denver is that they were AWESOME!!!!!! I have had several companies in the past look at my roof and never gave the respect and courtesy I deserved when making my final decision to move forward. I needed to find out if I needed a new roof prior to the Solar Panels that I h ad purchased were installed on top of our house. Called Storm Guard North to have them come out and quote me what it would take to be done in a hurry I might add because the Solar Install was going to happen shortly after the roof was installed. Russell looked at our roof as well as the gutters/flashing and determined right away that we needed a new set of roof shingles installed by seeing the grains from the old roof sitting in the gutters, and the indentations from hail damage a few months back on some of the shingles. Russell said that it is a good idea that I got the roof repaired now as it would have cost us a lot more money later on to take down the Solar Panels and then reinstall them after a new roof had been installed. We went with Storm Guard right away based on knowledge and experience that Russell had provided for all our questions which had been answered right away that day. He did not cushion anything during our conversations as it was our money and he wanted us to feel comfortable on what we were buying, so he was upfront about everything from the start. Russell and his folks at Storm Guard North did all the work for us and just guided us along the way for the next steps that would take place. When all said and done my wife and I decided to go with a Class 4 type shingle setup thru Storm Guard as Russell specifically stated that if we ever needed to go with a claim again later on with any insurance company that they all have to do like for like product and the certification that we got from the Class 4 shingles will be our justification for the next claim so they are not trying to get us to downgrade to a lower class shingle. We did not know this and that knowledge to us was very helpful for future use. On the day of install Russell's team member showed up to see how the progress was going and to check with me to see if I had any questions or concerns with how the work was being done that day on the roof. The crew was very clean around my house and made sure no debris was left behind after they had finished. The install took one day and finished a little earlier than I had anticipated. The pricing was very reasonable & affordable for us and I would imagine most people out there looking to get their roof replaced or more would feel this same way. With everything that Russell & his team of people at Storm Guard North did for my wife and I saved us a ton of time by handling everything for us from beginning to end and was all coordinated with ease. They handled everything either in person/phone or via email whichever was easiest at the time and a time saver for all parties. So everyone reading this wondering about Storm Guard North Metro Denver it is highly recommended by me and my wife that you do business with them as we did, because I felt confident they would take care of everything like they said they would and they made the whole install as painless as it could have been from start to finish. They did such a great job that we referred them to our next door neighbor as well as my mother in law and father in laws house as well and for their great service to us they have gotten more business as well with a couple more jobs coming soon. Thank you Russell and all the people at Storm Guard North Metro Denver. We have made lifelong friends thru you all!!!!!

Roofing Restoration for Tiffany Oaks

Storm Guard was absolutely amazing from start to finish. They were on time, professional, experienced, responsive, helpful, incredibly knowledgeable, & I can go on and on. Russ came to our home, inspected our roof, & determined that it should be replaced. He helped us call the insurance company to submit the claim, & from that point forward it was an easy process. I did have a question regarding the claim after hours and Russ called me to answer my question, way after hours! Install day went wonderfully, & my roof turned out beautiful. Storm Guard is the only roofing company I would recommend!