Storm Guard Roofing and Construction of Madison
Professional roofing and restoration service experts you can trust in Madison, Wisconsin.
Serving Madison, Verona, Sun Prairie & Surrounding Areas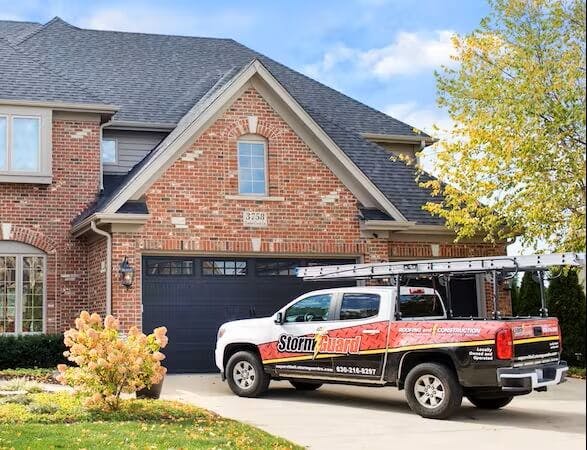 HASSLE-FREE RESTORATION IN MADISON
One contractor for all your repair needs.
If you're looking for residential or commercial exterior restoration services in Madison, we're here to help.
schedule free inspection
Services We Provide
Storm Guard of Madison provides expert roof repair, siding, windows, gutters, and painting for your home or business in Dane, Sauk, Columbia, Green, Dodge, Jefferson, Rock, Iowa & surrounding areas.
request a free estimate
Why We're Different
Ryan Engelbrecht, Owner & President of Storm Guard Roofing & Construction - Madison, WI explores different signs to look out for when it comes to the quality of your roof. Does it need replacing? How much life is left in your roof? Watch to find out!
What Our Customers Are Saying
Madison customers have had wonderful experiences using Storm Guard. Here's what they have to say.
Very professional, friendly. They were on time, did a roof inspection and performed some minor wind damage repair work. It was a great experience and I would highly recommend them.

StormGuard did my vinyl siding, soffit, fascia, and gutter install this summer. They did an excellent job from sales to completion! The workmanship looks great. So glad I went with StormGuard. Will definitely work with them again on future jobs!

Storm Guard did an awesome job! We needed both our siding and roof replaced. After the work was all done, they cleaned up all of the debris and materials. Everything looks amazing and we are very happy. Thanks Storm Guard!!

Visit our Interactive mapping portfolio of previous jobs that we have completed throughout our local area. Filter by shingle type, colors, location and photos.
View Projects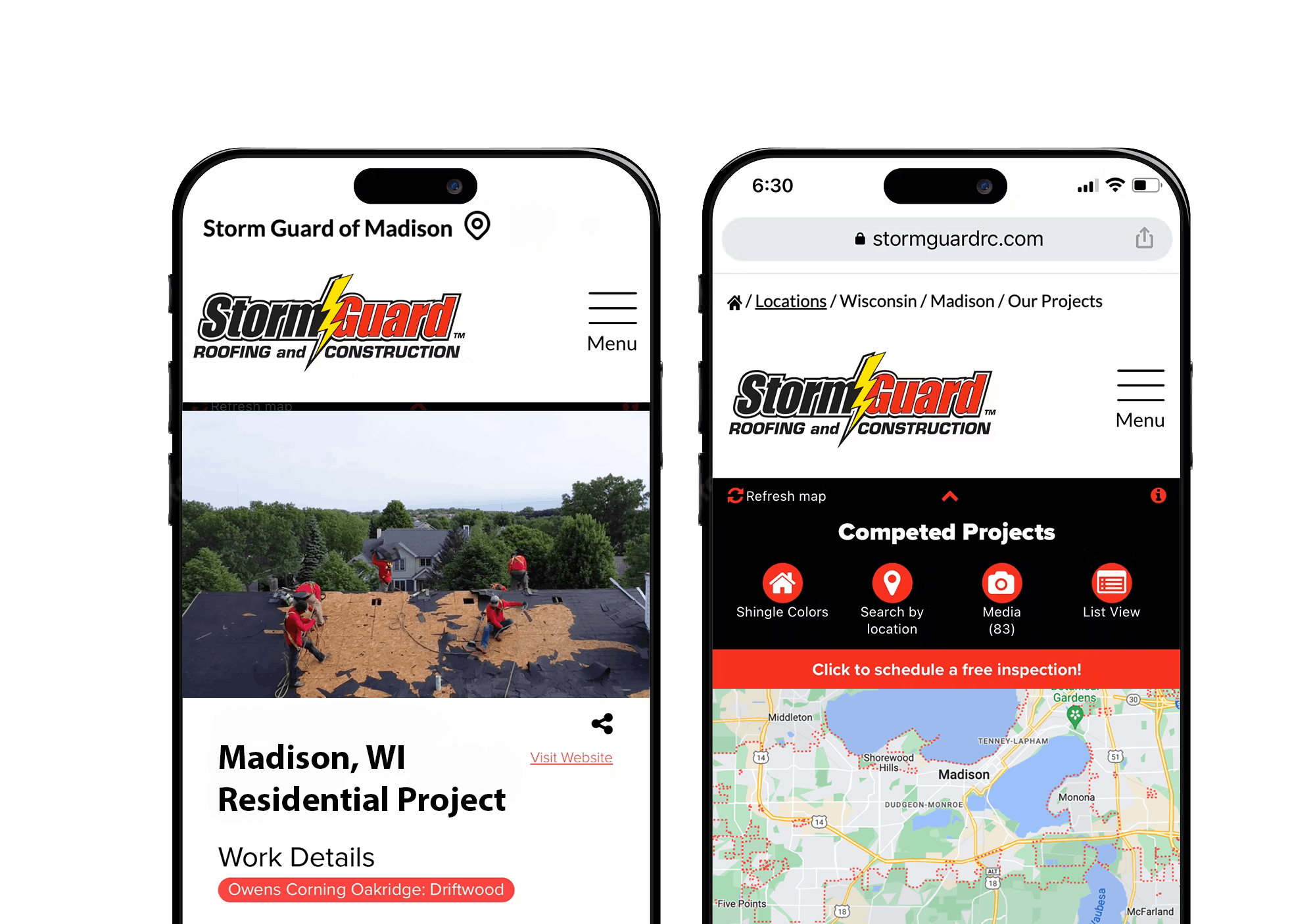 Experience you can trust
THE STORM GUARD DIFFERENCE
We're licensed and insured and offer services throughout Madison, and the surrounding areas. We stand behind our work with a five-year warranty on labor.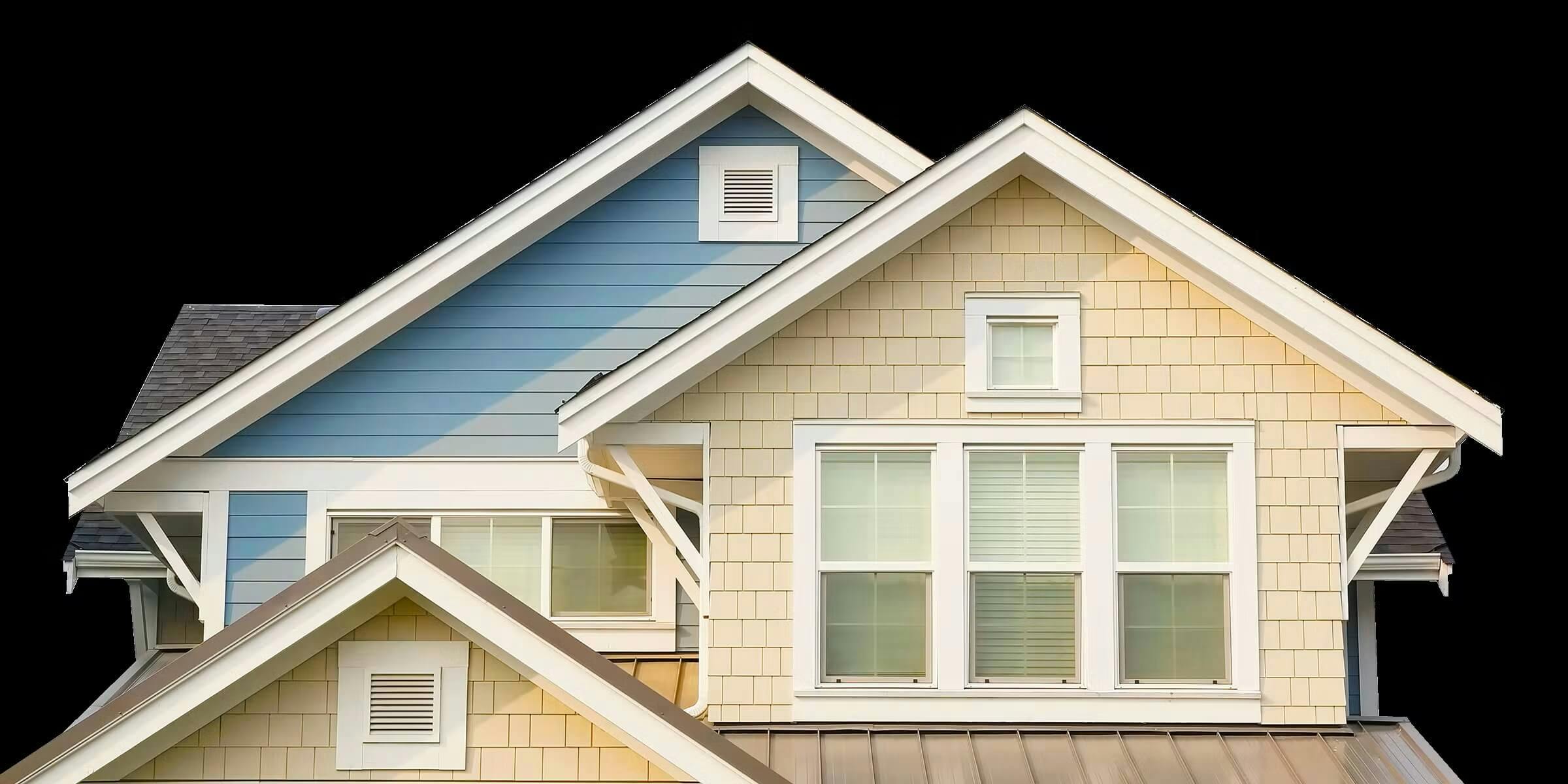 Why Trust Storm Guard?
Honesty & Integrity
We're Honest To A Fault - We Do The Right Thing
We Follow Through & Honor Our Contracts
No Scams. No Fraud. No Bad Workmanship
We Do It Right - Or We Don't Do It
Honest Assessments Guaranteed
Reputation & Experience
20+ Years Experience
Consistent 5 Star Ratings & Reviews
A+ BBB Rating
Helpful, Knowledgable Sales Team
Expert Project Managers, Highly Trained Workers
Rigorous Procedures w/ Proven Methodology
Committed to Safety
Personalized Customer Service
Areas We Serve
This Madison Storm Guard office is located in Verona, WI off Enterprise Dr. It's north of E Verona Ave next to the Heartland Credit Union. It's close to the Verona Ice Arena and just south of the Verona Public Library.
We Specialize in Insurance Claims
Filing an insurance claim to start your restoration project can be a trying task. To alleviate the stress, Storm Guard will assist you during the insurance claims process.
get in touch today
Our Team
Storm Guard is a trusted name in the exterior restoration & roofing industry. We're proud of the team we've build to serve you in the Madison community, and look forward to assisting you with your next home exterior project.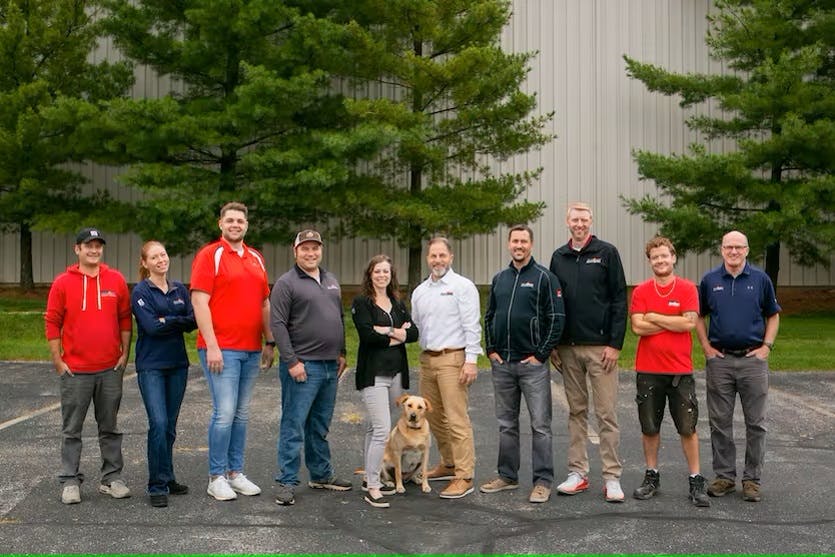 Best Roofing Company in Madison, Wisconsin
Storm Guard Roofing & Construction is a market pioneer and one of the most reliable and skilled roofing businesses in Madison, WI. Since over two decades ago, Madison, Wisconsin's Storm Guard Roofing & Construction has been synonymous with top-notch and dependable roofing services. Our top goal is to ensure that the clients who have trusted us to take care of their roofs are happy and satisfied. Every day, our roofers in Madison, Wisconsin, put in the effort to give our clients the best possible quality of building service and craftsmanship. This is supported by the positive remarks and testimonials they leave.
Each roofer selected for the team is aware of your suffering. Some of us are locals raised in the Madison, Wisconsin, area, and we have identical roofing issues because we have similar weather conditions. Our skilled roofers have the knowledge and commitment to solve your roofing issues while guiding you through the procedure. We constantly ensure that you are a part of the trip every step of the way, not simply the task at hand.
You can rely on Madison roofing services to tie up all loose ends, and Madison roofers in your area can take care of all your roofing requirements and ensure your roof continues to be impenetrable. We consider your ideas for your roofing project in Madison and bring every minute detail to reality.
No matter the issue you're having or the damage you need assistance with, as the leading roofing company in Madison, we ensure you get the best roofing service possible.
Get Your Regular Roof Repairs With Skilled Roofers in Madison, WI
Regular maintenance and repairs are the simplest way to prevent potential roof damage. The roof of your home is a barrier against the elements, and how the weather affects it can shorten or even ruin its lifespan. Repairing the roof when it is damaged, weather, or for any other reason is the best way to reduce the damage.
We Can Perform Roof Inspections For Your Home in Madison, WI
Your roof protects your house and possessions from the weather, so keeping it in good condition should be one of your top responsibilities. Contact our highly qualified professionals if you need help conducting a thorough inspection of your roof.
Dependable Madison, WI Roof Replacement
To provide you with the best experience possible, we will rebuild your roof using only the best currently available components. We will offer the greatest labor and product warranties. We would be delighted to demonstrate our method for replacing Madison roofs.
Reliable Madison Roofing Company For Quick Response to Roofing Problems
Homeowners must be ready due to the frequent occurrence of roofing problems. Working with a Madison roofing company you can trust to respond quickly in case of unforeseen damage or natural disasters makes this process go more smoothly.
Reliable Commercial Roofing Company in Madison, WI
In most cases, a building's roof protects its residents. Your building's roof is continually under pressure due to various factors, including temperature. After years of tolerating such stress, even a high-quality roof may fail, but eventually, issues may surface. Regardless of the kind, regular maintenance and repairs are necessary to maintain the structural soundness of the roof on your property.
Trusted Roofing Company in Madison, WI
Because our customers are our primary priority, we provide the best roofing services in Madison and the broadest market guarantees for our products' materials, workmanship, and labor. For various reasons, Storm Guard Roofing & Construction is considered one of Madison, Wisconsin's top roofing companies.
As a team, we strive to meet the roofing needs of the community and those surrounding it. To maintain our position as Madison's top roofing contractor, our roofers ensure that our projects and materials are of the greatest quality. The objective is to ensure that all issues relating to roofing for our clients are successfully and effectively resolved.
We also offer these services in Madison, WI:
Madison, WI Roof Inspections
Madison, WI Roof Repair
Madison, WI Roof Replacement (Re-roof)
Madison, WI Roof Installation
Madison, WI Storm Roof Damage
Madison, WI Emergency Roofing
Financing Available
Needing some home improvements, but you don't have the cash to do it? Storm Guard of Madison proudly offers financing to get your project completed. Please contact us to see if you qualify for one of our many great financing offers.
Apply Now
Testimonials
What Our Customers Are Saying
Roofing Services for HB Riley Reyes

Ryan was great to work with and the crews were professional and did top notch work. We got a new roof plus some windows. Especially appreciated Jake, our window installer, for his courtesy. Everything looks great! false

Siding Installation for Monica Titley

I am beyond happy with the entire process and final product. They were able to give me a quote quickly, and the install was very quick and easy too, and the best part is they were much more affordable compared to other quotes! I highly recommend them. false

Exterior Restoration Services for Theo May

Had some damage to our roof from the December wind storms, left a few places that needed patching prior to the spring. They came out and quickly patched up the problem areas. Will be working with them for a full roof replacement this Spring. false

Property Damage Services for Ken Smith

Very prompt post storm response, no delays, easy to work with, perfect experience,.,, false

Residential Siding Installation for Bob Braier (Look 2 Consulting, LLC)

Though my roof was frosty (see picture), the Storm Guard representative certainly wasn't! :) Very professional, friendly. They were on time, did a roof inspection and performed some minor wind damage repair work. It was a great experience and I would highly recommend them. false

-

Bob Braier (Look 2 Consulting, LLC)

Siding Installation for Joshua Cuevas

We had 6 quotes on a complete siding, gutter, fascia, soffit and roof replacement for our home purchase on a 1979 home. After speaking with Jason from Stormguard he was very professional and understanding with my many questions about different types of product that I wanted to use. There was even this fancy 3d progr am we could use to interchange all of the products on the market to get a better visualization of the project. I probably had about 20 emails exchanged between us before we ended up going with Storm Guard. Jason was prompt about replying to my questions and was very good about recommendations when asked. We chose Storm Guard because they were local, honest, and backed there work. They ended up being about in the middle for the estimate as well. The many reviews helped as well =) We waited about 6-8 weeks for the product to arrive and within 3 days after the product arriving the roof went up, followed by the siders and gutter team. The roofers were fast and cleaned up everything. The gutter guys were great about walking around the house and specifically asking which direction we wanted the flow to go from the downspouts. However, Jose and his team of siders (siding, soffit, and fascia) were an excellent group of guys. They even worked through the weekend to get the siding completed and made some adjustments as needed to our liking. The window wrap, garage wrap, and door aluminum wraps that Jose did are absolutely beautiful. We have had countless compliments on the job they did. They really did work their butts off. There was a product issue from the manufacturer and Jason/Ryan the owner promptly took care of the issue. We also had a lapse in communication with one of our windows also but again the team came through and made it right. We made a recommendation to a friend who needed siding repair after a storm during our installation as well. Jason and his crew were out to fix it right away. Our friend said they had called many contractors without anyone getting back... When you are having work done to your house it is nice to know that you have someone who will accomplish the job to your liking or will do whatever it takes to make it right. We will keep telling our friends and recommending to others when they need exterior work done.. Choose Stormgaurd!

Roofing Restoration for David Babler

Window Replacements for Rainer Dronzek

Exterior siding repair and whole house painting. The team did a great job. false

Exterior Restoration Services for Jeff Renk

Excellent variety of shingle colors, professional installation and did a great job cleaning up every piece of tar paper and nails. Followed-up when work was done to make sure we were happy and if had any questions. Great local company. false

Residential Painting Services for Charlene Krembs

Storm Guard replaced our roof and did exterior painting for us this year. We had a great experience working with Jason, Jaime and the roofing and painting teams. They were professional, responsive and did an excellent job on our house. Highly recommended! false

Property Damage Services for Don Drott

It was absolutely my pleasure doing business with Ryan, Jaime, and especially our project lead Jason Andre! Our exterior makeover is well on it's way with Storm Guard of Madison. The installation crews (vinyl siding/facia/soffit/window wraps/LP Smart Side trim work/gutters) were amazing. Jose and Ryan's crew was top notch on quality, and one of the hardest-working crews I have been around. I can't wait to continue the make-over with them. They treated us like family.

Emergency Tarping Services for John McGrady

I recently decided to hire Storm Guard to replace the hideous old siding at my 100-year old rental property in downtown Madison by the Kohl Center. As imitation is the biggest form of flattery, I have already had 3 Owners ask me for the name of the siding company who did the work! I worked with the project manager a t the time, Jason Andre. Jason couldn't have done a better job for what was a difficult siding project, logistically. The property has zero lot lines, downtown tight areas to work, intrusion on neighbors, etc. Jason communicated with my neighbors ahead, during and all the way through the completion of the project. Not to mention, they went out of their way to keep my tenants happy and informed of the slight intrusion. The tenants really appreciated this. Further, they went above and beyond regarding some physical challenges of the building by correcting them the right way. I know a lot of companies would not have gone the extra mile and tried to hide the problem areas. I just think it's hard to find such a professional, careful, and quality real estate vendor these days like you'll find with Storm Guard. You will NOT grow wrong. Finally, I wouldn't have done this project if they hadn't been cost competitive. This made for a no-brainer decision, and looking back I know it was a tremendous value. The building now looks brand new, and it immediately re-rented this year, at a much higher rental rate! I'll be hiring them for my next project. Sincerely, John McGrady

Roofing Restoration for Jim Martin

I absolutely recommend StormGuard for anyone needing a roof replacement! They were the best value and top notch quality team. They were able to do our roof within 2 weeks of the signed quote. false

Residential Siding Installation for Rhonda Grant-Cotter

We had hail damage and needed a new roof and skylights before winter. They were able to get it done right away. They also worked with my insurance company which took the stress off me. Storm Guard did some drywall and painting work for us and did an excellent job. We also had our gutters replaced. This is the second property of ours they replaced roof for us and they both came out looking beautiful. Guys were on time and worked hard. Thanks Ryan!

Storm Guard was great to work with. They were professional, thorough and affordable. I was most impressed with their communication, keeping me informed of changing timelines and going the extra mile to keep me updated from my first contact through completion of the project. false

Window Replacements for Whitney Schorr

Storm Guard has completed several projects for me including a total siding replacement on my home. The entire process from scheduling the job to the completion was seamless and actually enjoyable each time. The bid was competitive and Ryan and his team were able to schedule my work within a reasonable time frame. Th e team was always courteous and professional. It was nice to see Ryan check in several times as well to make sure things were going well. I would highly recommend Storm Guard Verona to anyone looking for a reliable company with affordable prices, friendly team members and exceptional craftsmanship. I will use them again when need arises!

Gutter Installation for Mike Van Sicklen

We rent an older home on the near west side of Madison, Wi. to our youngest son and his wife. We solicited bids for their roof replacement before choosing Storm Guard. Storm Guard was the lowest bid and, their representative and crew team were by far, the most responsive and helpful. We worked with Jason Andre throu ghout the process from bid to completion, and were extremely pleased. Incredibly well priced, prompt and an excellent end result. Zero reservations about recommending Jason and Storm Guard to friends.

Residential Painting Services for Matthew McGrady

Jason Andre and his staff at Storm Guard are fantastic. First, they had the most competitive bid of the 3 we received and they completed the work in less than 2 weeks, finished in one day, and also provided a quality control follow up inspection to make sure the roof was done to their satisfaction. I highly recommen d Jason Andre and Storm Guard.

Window Installation for Cory borgen

A great, honest, and competitively priced company, couldn't be happier with our interaction with them! false

Exterior House Painting for Cory Borgen

A great, honest, and competitively priced company, couldn't be happier with our interaction with them! false

Siding Installation for Jessica Grosso

I have mainly dealt with Ryan. He was very friendly and professional. I just build a new house and they installed my roof and gutters (also have done many other houses in my family). He was able to squeeze us in last minute on some jobs. Quality of materials and work was excellent. Have also used them for a painting job as well. Would highly recommend.

Gutter Repair for Ken Brady

They put new siding on my house and did a great job. Very professional, timely service. Their crew worked very hard. I'm extremely happy with my experience and would definitely use them again. false

Roofing Services for Alfredo Martinez

(Translated by Google) excellent service, excellent customer service, the process was very transparent and above all very punctual, my roof was very good, they did an excellent job and with my gutters too. I HIGHLY RECOMMEND THEM, MY NEXT PROJECT WILL TURN TO THEM AGAIN. (Original) excelente servicio, excelente aten cion al cliente, muy transparente el proceso y sobre todo muy puntual, mi techo quedo muy bien hicieron un excelente trabajo y con mis canaletas tambien. LOS RECOMIENDO AMPLIAMENTE, MI PROXIMO PROYECTO RECURRIRE A ELLOS OTRAVEZ.

Exterior Restoration Services for Sam Alletto

Storm guard replaced two roofs for me, did an excellent job, quality work. Jamie and her team are highly recommended. 5 stars false

Property Damage Services for Jeremy Morton

Within a couple days of our initial contact, Storm Guard performed a roof inspection and did a great job of identifying the issue and clearly communicating our options. We decided to have them do the repair, made the down payment, and were told it would take 3 or 4 weeks but that there was a chance they could fit us in sooner since it was a smaller (~4 hour) job. Later the same week, Bill, Derek, Jose, and the crew came out and made the fix. They were easy to talk to, did an excellent job overall, and also went above and beyond by addressing and providing a temporary fix for an unrelated issue that came up the same day of their visit. I've worked with a handful of siding/roofing contractors over the past five years, and my experience with Storm Guard has easily been the best of the bunch—I won't hesitate to contact them again next time I need service.

Residential Siding Installation for Cody Griner

A great roofing company to work with! false

Got a bid on our roof from Jesse, was a fair price and will be looking to move forward this fall false

Roofing Restoration for Hannah Cummins

Storm Guard did an awesome job! We needed both our siding and roof replaced due to lack of previous owners workmanship. We kept coming across new issues and they contacted us promptly each time to confirm work. Tom came out to take a look at the work and was awesome to work with! We had bad luck in the past with con tractors, but he was very likeable and did not pressure us at all. We felt very comfortable with him and the company. They even sent us a nice flower arrangement after I went into labor and was in the hospital for a few days! It had the sweetest card attached showing that they really cared about us. After the work was all done, they cleaned up all of the debris and materials. It took a little while since there was still snow on the ground, but everything looks amazing and we are very happy. Thanks Storm Guard!! -Hannah & Drew

Gutter Installation for Bill Spira

For the past two years, my wife and I have been sprucing up a "hobby house" we bought in 2019 to give us lots of projects to work on in our retirement. One of the projects this winter was to replace the worn shingles, install a better ice/water barrier, and repair some water damage due to a leak in the roof of our f our season porch. We sought bids from quite a few of the highly recommended roofing companies in the Madison area. In the end, we went with Storm Guard and could not be happier with both the experience and the final result. Storm Guard's sales rep, Tom, was extremely professional, personable, and thorough in talking us through the options. He earned our confidence with his honesty and responsiveness. The final bid from Storm Guard was very competitive, which sealed the deal for us. Subsequently, I greatly enjoyed my dealings with other members of the Storm Guard staff, like Bill and William. And the crew that came to do the actual work was terrific. Rafael and his team were meticulous and extremely efficient, despite having to work on some fairly cold and windy days. We could not be happier with the final result. The quality of the work is obvious and the new Duration shingles improve the look of our old house by at least 110%. We have already contracted with Storm Guard to replace some damaged soffits later this spring. If additional projects come up in future, we have enough confidence in Storm Guard that we plan to forego other bids and just go with them.

Window Replacements for Madison Property Restoration

I was very impressed with the results of my new siding and gutters. This crew worked out in the cold without a single complaint. They finished the project on time and on budget. Excellent workService: Gutter installation false

-

Madison Property Restoration
Make A Payment
Need to make a payment? Pay your invoice today through our easy to use online payment system.
Pay Now