Storm Guard of Naperville
Professional roofing and restoration service experts you can trust.
Serving Will, DuPage, Kendall, Kane, Grundy & Surrounding Areas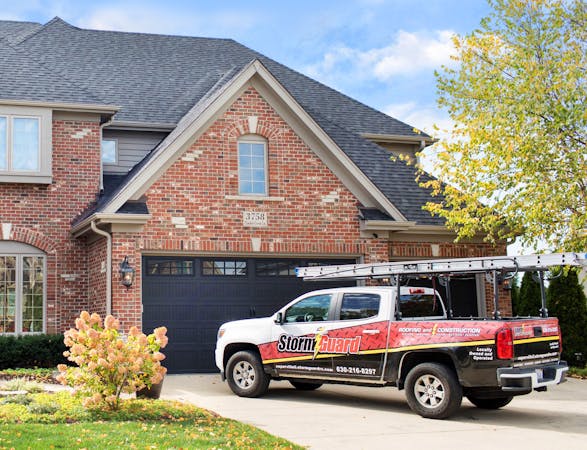 HASSLE-FREE RESTORATION IN NAPERVILLE
One contractor for all your repair needs.
If you're looking for residential or commercial exterior restoration services in Naperville, we're here to help.
schedule free inspection
Services We Provide
Storm Guard of Naperville provides expert roof repair, siding, windows, gutters, and painting for your home or business in Will, DuPage, Kendall, Kane, Grundy & surrounding areas.
request a free estimate
What Our Customers Are Saying
Customers from Naperville and its surrounding areas have had wonderful experiences using Storm Guard. Here's some of their feedback:
We used Storm Guard to replace our roof and they did a fantastic job. They came out to give us a quote quickly, handled everything with our insurance company, and we have had no problems with the new roof. A very good company to do business with.

We would highly recommend working with Storm Guard of Naperville. Cari, Bobby and Sue did a great job for us. The roofing and gutter crews did a great job and cleaned up after themselves.

I can't thank enough to Storm Guard of Naperville. They are experienced and professional. Storm Guard monitored and checked during each job. I am very happy with Storm Guard. They rebuilt my house and gave me a peace-of-mind. I highly recommend Storm Guard to anyone.

How Storm Guard Is Different
Experience you can trust
THE STORM GUARD DIFFERENCE
Licensed and insured, we offer services throughout Naperville, and the surrounding areas. With a five-year warranty, we confidently stand behind our work.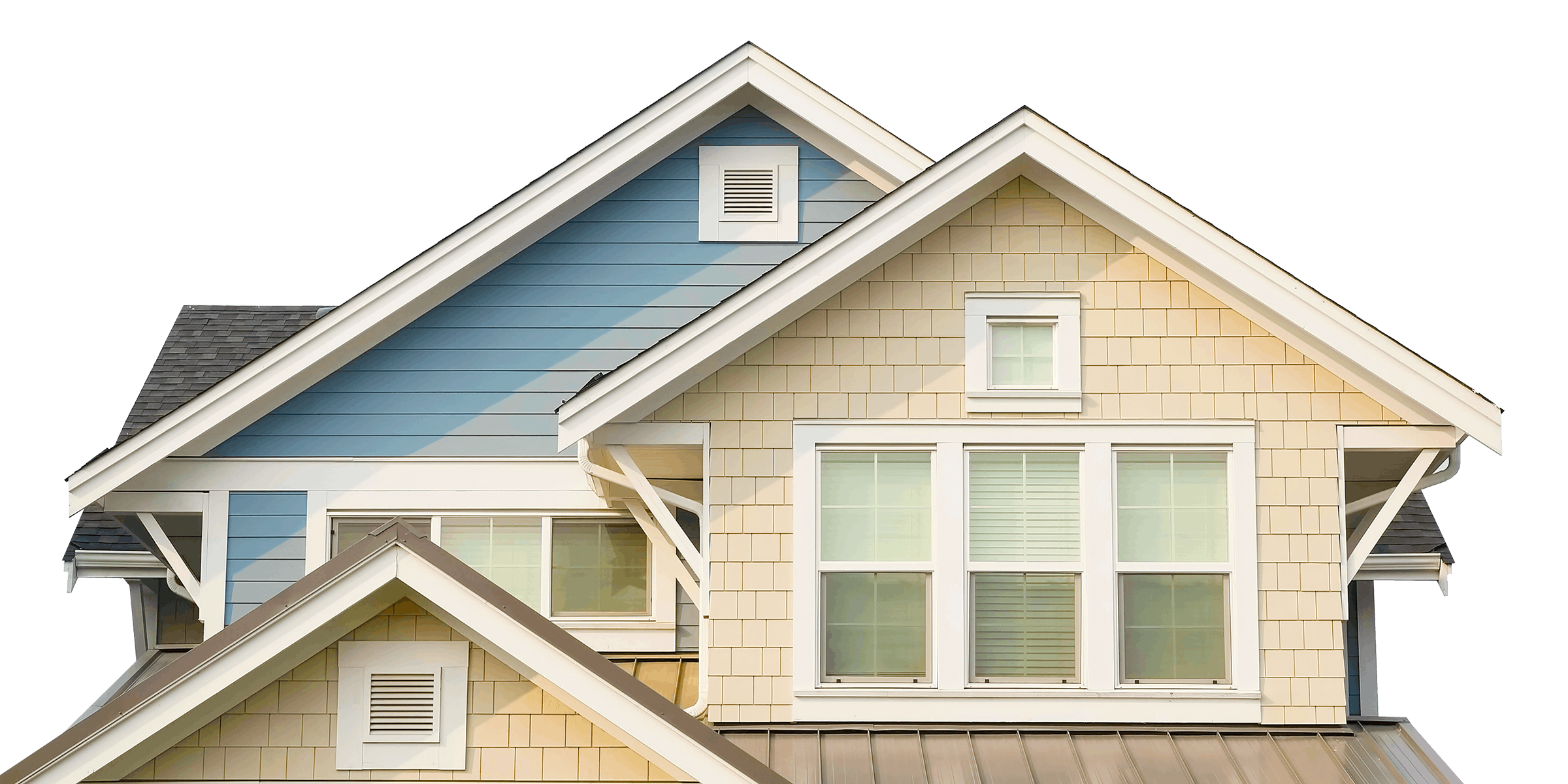 Why Trust Storm Guard?
Honesty & Integrity
We're Honest To A Fault - We Do The Right Thing
We Follow Through & Honor Our Contracts
No Scams. No Fraud. No Bad Workmanship
We Do It Right - Or We Don't Do It
Honest Assessments Guaranteed
Reputation & Experience
20+ Years Experience
Consistent 5 Star Ratings & Reviews
A+ BBB Rating
Helpful, Knowledgable Sales Team
Expert Project Managers, Highly Trained Workers
Rigorous Procedures w/ Proven Methodology
Committed to Safety
Personalized Customer Service
Areas We Serve
With our home office conveniently located in Naperville, IL, we can serve the entire Greater Naperville area. Call us if you need expert roof repair, siding, windows, gutters, and painting for your home or business in the following locations:
Needing some home improvements, but you don't have the cash to do it? Storm Guard of Naperville proudly offers financing to get your project completed. Please contact us to see if you qualify for one of our many great financing offers.
Apply Now
Certifications & Affiliations
Testimonials
What Our Customers Are Saying
Roofing Services for Nick Korczak

We would highly recommend working with Storm Guard of Naperville. Our claim was originally turned down by our insurance company but they worked with them and got the job approved. Cari, Bobby and Sue did a great job for us. The roofing and gutter crews did a great job and cleaned up after themselves. false

Siding Installation for julie xu

I can't thank enough to Storm Guard of Naperville. My house was hit by tornado in Jun, 2021. It was a disaster. There was so much damage and I had no idea how to handle it. I called Storm Guard after I shopped around (searched on website). Cari brought her team to my house quick and met with my insurance. In the beg inning, I was worried about there were some hidden costs if Storm Guard represents me to dealing with my insurance. But actually, I was wrong because Cari copied me all emails she sent to my insurance included cost for each item. There were no hidden costs. It was transparent. They represented me as my best interest. Before the project started, Storm Guard gave me a list that showed what need to be fixed and what's the schedule, such as schedule for replacing roof, siding, gutters, inside painting, doors, windows….. Their subcontractors showed up on time and finished their work on time. They are experienced and professional. Storm Guard monitored and checked during each job. I am very happy with Storm Guard. They rebuilt my house and gave me a peace of mind. I highly recommend Storm Guard to anyone.

Exterior Restoration Services for Sara Wingate

Due to the August 2020 tornado, we got hit with a significant amount of damage to our roof. StormGuard helped me all along the way! Sue went above and beyond! She coordinated everything with my insurance company, including informing them of our city's requirements for roof repairs. I felt like I had an advocate on m y side. I am very happy with their work. I love the shingles I was allowed to request and am so happy that I no longer have to worry about rain coming through my kitchen ceiling lights!

Property Damage Services for Little Scotty

They are amazing to work with! Very professional and thorough! Love the results! Will recommend to everyone! false

Residential Siding Installation for Ric Gruber Jr

Can't recommend this team enough! It has been a pleasure working with Cari and Mike through a process I thought wasn't worth it because of the stress it would cause dealing with our insurance company. But, they made it so simple, walking us through every step and handling communications with the insurance company th at are now excited to have all new siding and a new roof come spring! Thank you!!!

Roofing Restoration for Laura Bambrick

We had Storm Guard come out to do an estimate on some wind damage on our roof last spring. After the hail storm they were amazing working with us and our insurance company to ensure we received all the repairs and replacements were completed as quickly as possible. They were so easy to work with and even went to bat for us with our insurance company for shutter replacement and upgraded shingles. I'm really pleased with everything that was done and would recommend them to anyone.

Window Replacements for Rod Snyder

They walked me through everything we needed to get a new roof after a storm in May, 2019. The insurance company was initially offering a partial replacement. SG took care of that as well and advocated for a full replacement. The roofers were in and out in a day. Minimal disruption. false

Gutter Installation for Grace Young

We used Storm Guard to replace our roof and they did a fantastic job. They came out to give us a quote quickly, handled everything with our insurance company, and we have had no problems with the new roof. A very good company to do business with. false

Residential Painting Services for Mike Doyle

"A" for excellence. Management team takes their roles and responsibilities very seriously and execute what they say they are going to do with attention to details to ensure customer is totally satisfied - Teams like this are hard to find - "A" for excellence false

Emergency Tarping Services for Lewis Lancaster

Mike and the team at Storm Guard were great to work with. I appreciated the patience they had with my insurance as well as the speed and quality in which the work was completed. Highly recommended! false

Window Installation for Carlos J Duarte OFS

The crew replaced our roof a few months ago and when I had an issue with my dryer vent they came back out promptly and assisted me in determining the root cause of the issue. Excellent service! false

Gutter Repair for Bharat M

Storm Guard of Naperville was our general contractor to assist with storm damage. They represented us very effective in dealing with the insurance company. The work performed was of good quality. The sales person was very helpful in assuring timely completion of projects. false

Roofing Services for Mike Wierzbinski

Storm Guard did our roof and gutters. The crew did a great job, cleaned everything up and were done super fast. Thank you for an amazing new roof and gutters! Also, the staff is super kind and understanding. false

Siding Installation for Grace Y

Storm Guard did an excellent job replacing my roof. The company came out quickly to give me a quote, handled everything with my insurance company, and I had my new roof installed in a few weeks. The whole crew was very professional. false

Exterior Restoration Services for Dara R

Experience was great from start to finish. The sales team was very friendly, went above and beyond expectations. The install crew did a great job. Site cleaned up and roof looks great!! false

Property Damage Services for Vipan

I worked with Mark to replace the roof and get other things fixed due to hail. He is simply the best. He was able to fight on my behalf with the insurance to get windows, garage, front of the house and siding painted. He is not a just roofing guy - he is a complete solution for hail damage. Wish him good luck - stro ngly recommend him. Vipan S***** ******** *********** ** *****

Residential Siding Installation for Grace Marino

We used Storm Guard last year to replace our roof and they did a fantastic job. They came out to give us a quote quickly, handled everything with our insurance company, and we have had no problems with the new roof. A very good company to do business with. false

Roofing Restoration for Dara Rosedale

Professional, timely, overall very satisfied false

Window Replacements for Michael D

"A" for excellence. Management team takes their roles and responsibilities very seriously and execute what they say they are going to do with attention to details to ensure customer is totally satisfied - Teams like this are hard to find - "A" for excellence false

Gutter Installation for Lewis Lancaster

Mike and the team at Storm Guard were great to work with. I appreciated the patience they had with my insurance as well as the speed and quality in which the work was completed. Highly recommended! false

Residential Painting Services for Trevor H

Storm Guard did a fantastic job with our house. After a significant damage due to a hail storm, Storm Guard really took ownership of bringing our claim to completion. When the insurance company drug their feet, Storm Guard knew exactly how to effectively respond. Not only was the quality of work great, but going abo ve and beyond with the insurance company was clutch. Highly recommend Storm Guard!

Emergency Tarping Services for Trevor Heller

Fantastic job by Storm Guard! Work was excellent and done right, plus they helped us navigate the insurance company! Really happy with Storm Guard! false

Window Installation for KimN

I can't say enough about Mark & Cari ****** of Storm Guard. The company did a great job on our storm damage repairs and were efficient in getting the work completed. Our home looks like a new one. They were also excellent liaisons with our insurance company. false

Storm Guard did an outstanding job repairing a roof that had extensive damage. They did quality work and were very fast. Highly recommended. They were also very patient as insurance payments ran into delays. false

Roofing Services for Laura Davis Bambrick

We had Storm Guard come out to do an estimate on some wind damage on our roof last spring. After the hail storm they were amazing working with us and our insurance company to ensure we received all the repairs and replacements were completed as quickly as possible. They were so easy to work with and even went to bat for us with our insurance company for shutter replacement and upgraded shingles. I'm really pleased with everything that was done and would recommend them to anyone.

Siding Installation for Laura B

We had Storm Guard come out to do an estimate on some wind damage on our roof last spring. After the hail storm they were amazing working with us and our insurance company to ensure we received all the repairs and replacements were completed as quickly as possible. They were so easy to work with and even went to bat for us with our insurance company for shutter replacement and upgraded shingles. I'm really pleased with everything that was done and would recommend them to anyone.

Exterior Restoration Services for Marc Mallett

I highly recommend Storm Guard Roofing and Construction. Cari and her team are professional, dependable and highly skilled. There is no one else I would call. false

Property Damage Services for Bob Siemann

After the hail storm Cari was right there to help. Every step of the process went very smooth. Cari was always there to help, answer questions and offer suggestions. Dealing with contractors can be troublesome at times, but not Cari and her team. Professional, prompt, excellent work, availability and a smiling face are just a few of the reasons I would highly recommend Cari and the Storm Guard team! Bob Siemann

Residential Siding Installation for John Killacky

Had the roof on a building separate from my house replaced. Even though it was a smaller project, Storm Guard paid the same attention to it as they would a full house. Quality job done quickly. Thanks! false

Roofing Restoration for Becky Lockwood

Storm Guard Roofing and Construction is the best! Cari and her team make the whole process of roofing and construction so efficient and with the highest quality of work. Our neighborhoods are looking amazing with new paint, new decks, new garage doors, new siding, and new roofs on all our homes! Remember them for al l your roofing and construction needs! Great way to improve your home value! I recommend them to all my clients! ⭐️⭐️⭐️⭐️⭐️