Storm Guard of Evansville
Professional roofing and restoration service experts you can trust.
Serving Evansville, Newburgh, Chandler & Surrounding Areas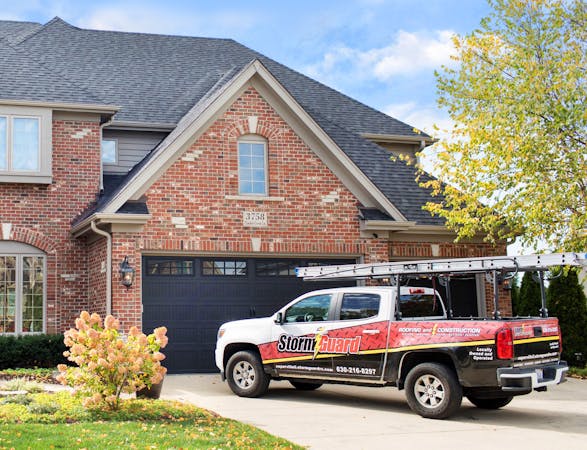 HASSLE-FREE RESTORATION IN EVANSVILLE
One contractor for all your repair needs.
If you're looking for residential or commercial exterior restoration services in Evansville, we're here to help.
schedule free inspection
Services We Provide
Storm Guard of Evansville provides expert roof repair, siding, windows, gutters, and painting for your home or business in Tri-State, Vanderburgh, Warrick, Posey, Gibson, Spencer, Pike, Dubois, Henderson, Daviess & surrounding areas.
request a free estimate
Roofing Repairs + Solar Energy Solutions: Unleash the Full Potential of Your Home with our Sister Company SolaTrue
Upgrade your roof to reduce your carbon footprint or preparing your home for a power outage. SolaTrue is here to help with your energy savings!
Learn More

What Our Customers Are Saying
Customers from Evansville have had positive experiences using Storm Guard. Here's what they have to say.
Matt and team were very responsive, efficient, and use quality materials. We haven't found one nail in our yard. At the end of the day they even took a grass roller and smoothed out our grass. We highly recommend them! We love our new roof.

Matt and team were very responsive, efficient, and use quality materials. The roofing team took great care of our home and yard. We love our new roof and highly recommend Storm Guard.

Matt and his team at Storm Guard Evansville were very professional and performed quality work. The entire team was great. The management and team were personable, helpful, and professional. Highly Recommend.

How Storm Guard is Different
Experience you can trust
THE STORM GUARD DIFFERENCE
Licensed and insured, we offer services throughout Evansville and the surrounding areas. We confidently stand by our work with a five-year labor warranty.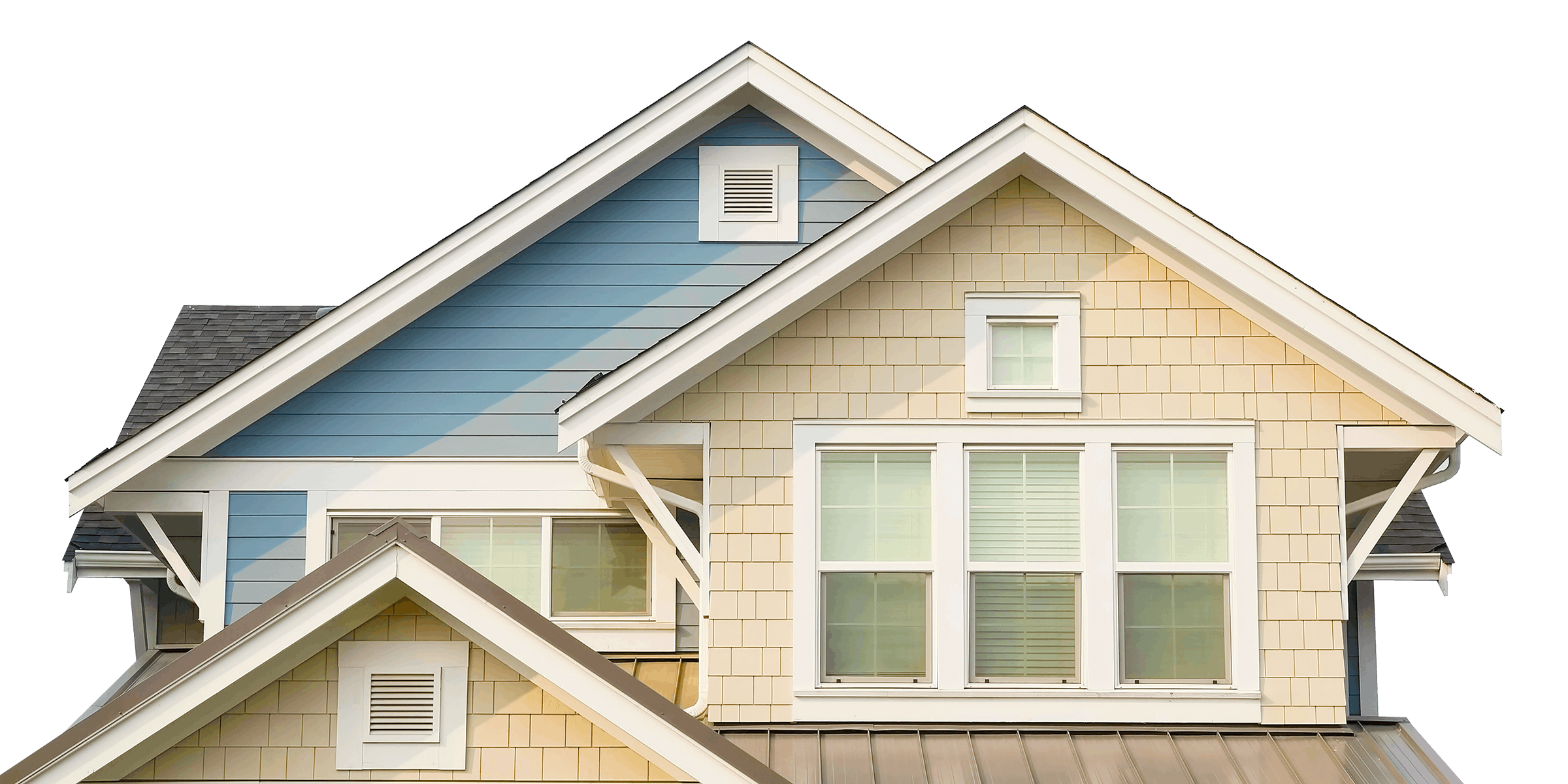 Why Trust Storm Guard?
Honesty & Integrity
We're Honest To A Fault - We Do The Right Thing
We Follow Through & Honor Our Contracts
No Scams. No Fraud. No Bad Workmanship
We Do It Right - Or We Don't Do It
Honest Assessments Guaranteed
Reputation & Experience
20+ Years Experience
Consistent 5 Star Ratings & Reviews
A+ BBB Rating
Helpful, Knowledgable Sales Team
Expert Project Managers, Highly Trained Workers
Rigorous Procedures w/ Proven Methodology
Committed to Safety
Personalized Customer Service
Areas We Serve
With our home office conveniently located in Evansville, IN, we can serve the entire Greater Evansville area. Call us if you need expert roof repair, siding, windows, gutters, and painting for your home or business in the following locations:
Certifications & Affiliations
Testimonials
What Our Customers Are Saying
Roofing Services for Jim Block

Great service, got done a day early. They work from sun up to a little after dark. Job sight was neat and clean after they left. false

Matt Gilliam was awesome to work with for our roof replacement!! He helped get our insurance claim in and even met the adjuster twice to ensure that we got everything processed. He knew we had damage and didn't let up with the claims department until we got it all processed. The roof looks awesome and we are all dry again with our new roof. Highly recommend!!!!

Exterior Restoration Services for Richard Siegert

Storm Guard recently put on a new roof for us. We had a leak into the dining room, and they came out that next morning (a Saturday) and put a tarp on the roof to prevent further leaks. Over the next couple of weeks, they worked with the insurance company to review the damage. Matt and Chris were so helpful and upfro nt with everything. They just finished the new roof last week, and it looks great, and comes with a 40 year warranty. They cleaned up the yard - couldn't even tell they had been here. Did the whole roof in one day! Highly recommend their service. Local guys, very friendly and knowledgeable about their trade. Can't say enough about our local Storm Guard company.

Property Damage Services for Cody White

Matt, I simply cannot thank you enough! You truly go above and beyond for your customers. Storm Guard is now my go-to for all roof repair. false

Residential Siding Installation for MaryBeth Guyer

We woke up to a leaking roof in 3 different spots on New Years Day (Saturday when they were closed). I contacted David H about it to see if there was any way we could have it looked at sometime during the upcoming week—and David showed up to our house within the hour to patch things until it could be repaired. We ha d no expectation of such timely service, but we're so thankful for his willingness to inspect and give his opinion and save us from greater damage down the road. Thank you, Storm Guard, for employing people with great customer service who are willing to go the extra mile.

Roofing Restoration for Kristi Green

We had a very minor leak with heavy rains and Alan came out. Very professional and nice. Found where it was leaking at and patched it up. If we need them again, will definitely be calling. false

Window Replacements for Laurie Pichon Robinson

We had some storm damage on two structures and couldn't get another company to come out to assess it for us (one took a satellite picture and gave us a quote for replacement; the others were no shows). Wes came out the same day we spoke, got on our two roofs and helped us make a plan for repair/future replacement. W e will definitely be using them for our future replacement based on their timely, professional and honest service!

Gutter Installation for Flynn O'Daniel

They did a great job! Helped me out along the whole process false

Residential Painting Services for Christen McWilliams

StormGuard put a new roof on our house Wednesday, and we couldn't be more pleased with the entire process. David came out to give us a quote and offered to work with our insurance company. He explained the materials and the entire process, answered all of my questions (I had a million!), and always followed-up to ma ke sure we were happy. When our roof started leaking before the new roof was put on, the owner and an employee came out on a Saturday and got it tarped for us. The crew that put the roof on were friendly and professional, and their cleanup was immaculate. I was really concerned about the possibility of nails being in the yard because we have a dog, and I didn't find a single one when I checked after they left. They even climbed though the bushes to make sure they had all the debris! So happy we chose this company to do our roof, and would definitely recommend them to anyone that needs work done!

Emergency Tarping Services for Chris Doyle

Storm Guard Restoration is the best! I called on a Tuesday after finding a recurrent problem area after a significant rain. Matt came over to my house on the same day. He found the problem and worked to fix it that same day. Matt was courteous, honest and very professional. I would recommend Storm Guard Restoration to my family and friends. Will definitely call them for future projects. Thanks Matt.

Window Installation for Karen Duncan

crew was hard working and clean up false

Gutter Repair for Andrew Beitler

A couple weeks ago David Hubert posted on FB that he was working for Storm Guard Roofing and if folks had issues to give him a call. We have had an ongoing issue with a section of our roof and last Friday the ceiling was dripping. He would have come by same day but my schedule was full. The section has since been se aled by David quickly and professionally and we are completely satisfied! Thanks David.

Roofing Services for Scott Robbins

David was awesome. Extremely knowledgeable and professional. I will be calling them for all my roof replacements and repairs in the future. Great job. Highly recommend this company. false

Siding Installation for Nanette Holler Peach

Storm Guard Restoration is the best! Honest and courteous owners and employees. Start to finish, best experience with a construction project ever. false

Exterior Restoration Services for Chandra Beck

Excellent service, and very quick in response! I called at least 5 people trying to get a person to fix the siding on my house so it would quit hitting the side of the house and ripping more siding down until we could get it fixed. No one would call me back, but Storm Guard did within 30 minutes, and out to fix my s iding within an hour and a half! I would recommend them to anyone, not only for their promptness, but also their friendly staff and great service!

Property Damage Services for John Blair

The folks at Storm Guard Restoration in Evansville gave me one of the most consumer friendly experiences I have ever had. First, they offered to inspect my roof for damage which they did immediately, and what they found was serious hail damage that I was totally unaware had occurred. After I filed a claim with my in surance company, they met the company's adjuster and accompanied him to the roof making sure he saw every bit of the damage. From that point they worked closely with my company's claim division to get everything I needed to get the new roof built. Yesterday, they finished the job and I can tell you it was professionally done and I am thrilled. And to think, I would not have even known that I needed a new roof had they not been willing to do that first inspection. I reccomend Storm Guard and their professional friendly model of doing business.

Residential Siding Installation for Daniel Stone

The follow up service is extraordinary. Had roof replaced in 2016. Suspected a leak recently. They were here the next day and worked extensively to find the issue. Great service. false

Roofing Restoration for Galen Deig

Highly recommend. Top quality professionals that do top quality work at a value price. false

Window Replacements for Shelly Spurling

they were fast and efficient help us navigate the insurance process. false

Gutter Installation for Kim Phillips

If you're wondering who to contact for roof repairs.Call David Hubert with Storm Guard. He was absolutely awesome.So professional. I give him 5 Stars and highly recommend.Thanks so much!! false

Residential Painting Services for Melissa Farmer Schutte

I would Highly recommend calling Storm Guard! Honest and Dependable!! false

Emergency Tarping Services for Rachel Mattingly

We had a great experience with Storm Guard recently! We've had a small weather-related leak in our master bathroom wall on and off for the last year and a half and have tried multiple fixes advised by others that haven't worked. David from Storm Guard came out to our house the same day we called, was so friendly and kind, and was very thorough in diagnosing the problem. He came back the very next day and fixed the issue. We couldn't be happier and would definitely recommend Storm Guard to others. We plan to use them again for any future problems we might encounter.

Window Installation for Valerie Kiesel Lamey

Thank you to Wes and all of the local Storm Guard team not only for the wonderful job on my roof and gutters but especially now for the gift of financial peace. Such a hard time for everyone, my family included. Thankful there are still Angels out there with blessings! Thanks again!! false

Gutter Repair for Kevin Otolski

We had two shingles fall off our roof a few weeks ago. David from Storm Guard was driving through the subdivision and noticed the missing shingles. He knocked on the door and asked if we had the shingles and he offered to put them back up there at no charge and did it the same day, When the time comes to replace the roof, we will definitely be calling Storm Guard for an estimate.

Roofing Services for Karyn Ward

Storm Guard is a great company to work with! They came out to my house and helped repair my roof! Wes was great to work with!! I will use this company again in the future. false

Siding Installation for Kiley Barnett Ktb

They were on time, and they got the job done quickly and effectively. I'm very pleased with the service they provided. false

Exterior Restoration Services for Shawn Miracle

Corey came out and did a roof inspection for us when we had a leak and gave us our options for repair. Honest guy. Knowledgeable people. Repair was done the following day. We have had 3 heavy rains come through since and no leaks! Thanks Corey! false

Property Damage Services for Javan Anderson

Matt Gilliam was awesome to work with for our roof replacement!! He helped get our insurance claim in and even met the adjuster twice to ensure that we got everything processed. He knew we had damage and didn't let up with the claims department until we got it all processed. The roof looks awesome and we are all dry again with our new roof. Highly recommend!!!!

Residential Siding Installation for Katie Kaip Guttman

Have a new roof thanks to Storm Guard ! they helped me battle with the insurance company , highly recommend them all very professional and friendly dealt with Wes Nickens - Matt came out and placed a tarp on Sunday morning because more rain was on the way and my roof was leaking thanks guys for such hard work and go od job

Roofing Restoration for Nancy Buttner

Wes Nickens did work on my roof! He did a fantastic job! I would recommend them to anyone! false